Holiday Inn Portland- I-5 S (Wilsonville), an IHG Hotel
25425 SW 95th Ave, Wilsonville, OR 97070
Thursday, February 9 from 5:00 – 6:30 pm, we will have a welcome reception at the Holiday Inn Wilsonville.
Join us on Friday, February 10 for the OTTA Winter Meeting.  The meeting will run from 8:30 am – 2:00 pm.
Start your new year off with a new head shot!  Our very own Kristi Reed will be doing head shots at the February meeting for $25.
Supercharge Your LinkedIn Profile and Personal Brand
Have you harnessed the power of LinkedIn to truly build meaningful connections? Have you made sure your profile is at the coveted "All Star" status? This session will help you completely rethink your profile in a new light. Hear from former travel industry professional and current resume writer Dawn Rasmussen on what you need to do to be found on this critical networking platform to help you clarify and articulate your value to both prospective customers, partners, or employers.
Learning outcomes:
You'll find out how to develop your personal brand
Gain proficiency in building an All Star status for a robust, vibrant LinkedIn profile
Learn some secret hacks and tips that most LinkedIn users don't know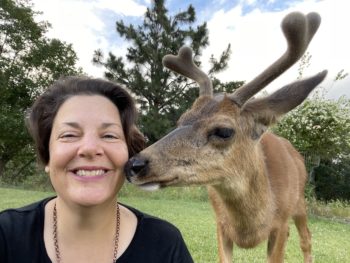 Speaker:  Dawn Rasmussen, CMP and certified resume writer, Pathfinder Writing and Career Services
Dawn Rasmussen, a certified résumé writer, is the president of Portland, Ore.-based Pathfinder Writing and Career Services and author of "Forget Job Security: Build Your Marketability" which is the first-ever book that provides a complete roadmap on how manage your career.
What makes Dawn "tick"? A relentless and tireless desire to help everyone understand the importance of actively managing their career every minute of every day.
She helps clients and conference attendees think about their careers differently by pushing their envelope (in a good way), which is the first step in the journey where job seekers and employees begin to actively manage their career destinies.
When she isn't busy working with résumé clients, speaking to conference groups internationally and nationally, writing articles / blogs, or teaching, Dawn is hiking in Oregon's spectacular outdoors, kayaking, or plotting her next adventure.
And you should know that her most recent adventure during the COVID-19 pandemic has been acting as a stand-in mama raising an abandoned fawn, Thor, who was found on her property. Yet another thing to put on Dawn's own resume: Deer Mama!

Hotel Reservations:
Click here to make your hotel reservations at the Holiday Inn Wilsonville.  $114 per night plus a 10.5% tax.  Room reservation cut off is January 27, 2023.
COVID Policy:
Your personal accountability to OTTA is very important. If you choose to attend in-person events with OTTA, we are asking that you abide by and engage with the health and safety protocols as outlined or modified based on CDC guidelines and/or state and local laws and ordinances.
If you are not feeling well, have COVID-19 symptoms or have a fever, we ask that you refrain from participating in the event for which you have registered.  If you have tested positive for COVID-19, are experiencing COVID-19 symptoms, or have not completed self-quarantine as required by the CDC after being exposed to COVID-19, please do not attend the in-person event.